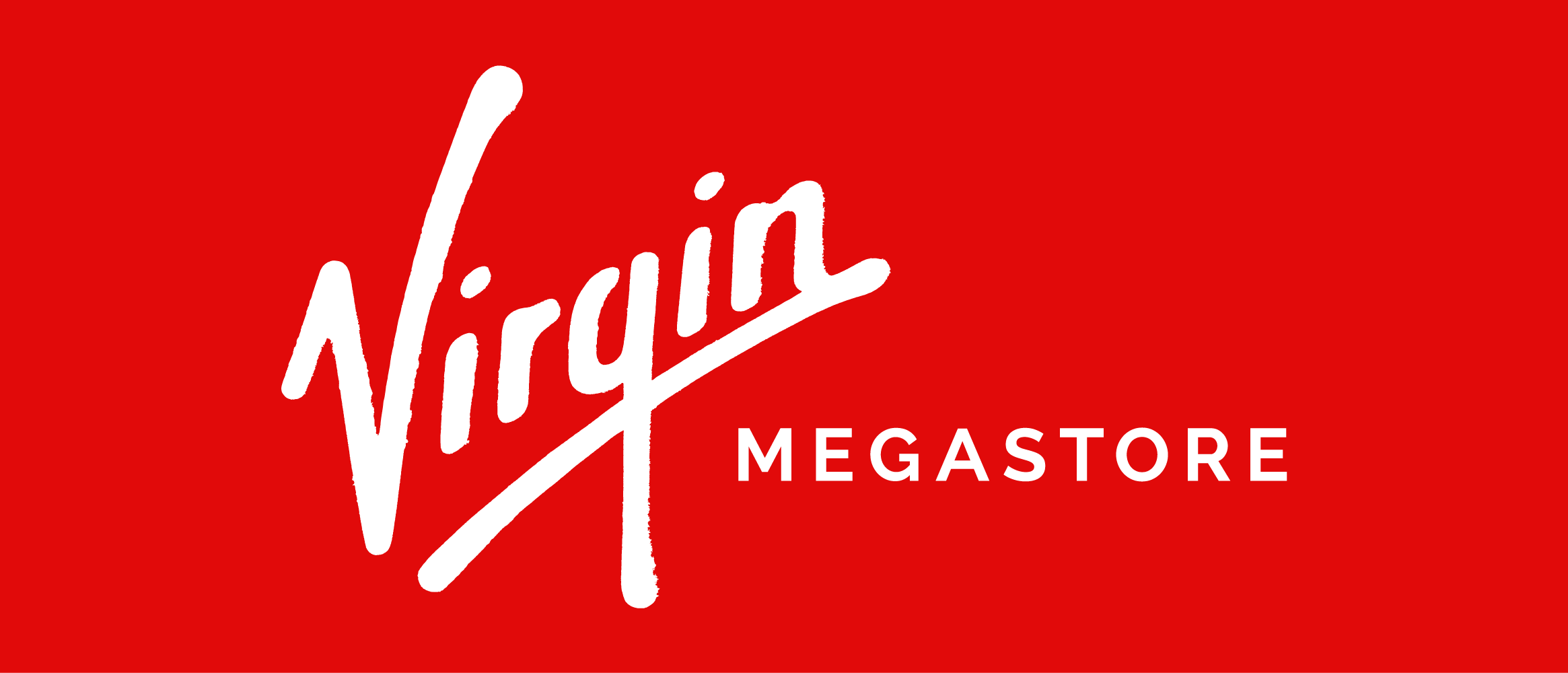 Virgin Megastore
---
Virgin Megastore is a popular shop with a unique concept. Both its physical and online shops are home to lifestyle products across beauty, entertainment, technology, culture, fashion, and so much more. With an inviting vibe, you can't help but stop and check it out at any mall. Well, that's because Virgin Megastore is more than just a store.
Over the years, it has marvelled people of all ages with its variety of product selections and offerings. In fact, it also provides customers with access to tickets for theme parks, sports events, theatricals, clubs, festivals, concerts, and other events. Overall, it  has more than 40 stores in 9 markets in the MENA region. 
Reasons to love Virgin Megastore
Whether you are a bookworm, a techie, a fashionista, a geek, or something else, you will find a lot of stuff that will cater to your wants and needs at Virgin Megastore. The best part is, each product offers the highest level of quality at an affordable price. Add to that its suite of services and you're in for the best shopping adventure!
Selection of the best brands under one roof

  -

There is seldom another store that will have so many fantastic brands under it. With 

Virgin Megastore

, you no longer need to check out different websites or go hunting in malls for your favourite brands. It has them all

covered. So,

shopping and gift hunting becomes a whole lot easier.

 
100% quality assurance

-

Founded in 1976, it has a solid rock reputation in the market

. Thus, you don't need to have any second thoughts when you're purchasing from them. That's because they only have the best and original quality products listed. They hold high

-

quality standards for each product they sell.

 
Fantastic customer service

-

Not happy with a product, have a general query, or

require some help? Whatever be the case may be, you can easily reach out to Virgin's customer service team. You can do this th

r

ough their online store. Or if you prefer retail, their helpful staff is always available

in stores too

. Social media is also a

n excellent

 way to connect with them.

 
Easy-to-navigate

website

- N

othing is better than online shopping in

 this day and age.

 It

'

s quick, easy, and saves you so much time and money.

Moreover, there is a massive array of selections to choose from. Virgin Megastore's website is

a 

fantastic

way to find everything you need effortlessly. These include brands, products, policies, deals, and more.

 
More than electronics

-

Virgin Megastore generally means electronics and games for a lot of customers. Well, this amazing store is much more than that. Think beauty products like hair curlers & makeups, toys, music, books, and more. Yes, the store has grown and now holds many

exci

ting brands and domains under it.

 
Physical stores across MENA

-

It

'

s easy to understand t

h

at a lot of people are not so comfortable shopping online even today. For them, viewing and feeling the actual product is vital before purchasing. If that's the case with you,

worry not. Virgin Megastore has 

seven

physical stores in Dubai alone and many more across the UAE and other countries. So,

check out

 the nearest one to you, and head over!

 
Shopping at Virgin Megastore is indeed a treat. From quality, to inventory, customer service, prices, and deals, it offers everything you need from A to Z. What are you waiting for? Experience what it is like to shop at this amazing store today!
Brands offered
It is no surprise that Virgin Megastore has grown and captured many international brands over the years. It also provides some stunning discounts during sale seasons. Therefore, stay tuned, especially if you are planning to buy electronics, watches, and grooming kits. Amongst the brands offered by the store include Apple, Google, Samsung, Huawei, Microsoft, Xiaomi, HP, Sony, Dell, Asus, GoPro, Canon, Fitbit, Razer, Bose, Logitech, Zoella, Hype, Casio, Lego, Robotime, and Nanodots, to name a few. 
What's in-store
Virgin Megastore has a fantastic selection of some of the best products and brands under one roof. Be it for gifting, home, or office, you're sure to find them here. And that includes technology & electronics, toys, house items, games & gaming accessories, music, arts & craft supplies, fashion for men & women, books, beauty, and so much more. 
Discounts, offers, & promotions
Virgin has competitive pricing and online deals. And that means, you no longer have to wait until there is a special discount. Plus, it also offers exclusive coupon codes and vouchers that you can avail when you shop online. And yes, this calls for a shopping spree. Let's check out below some of Virgin's amazing deals that you can take advantage of all year round. 
Online-

o

nly Deals

- If you need to buy something urgently and can't wait for the next sale, then worry not! The Virgin Megastore website has plenty of deals that you can check out while browsing. These don't require any special coupon codes and are available almost throughout the year.

However, online and in-store deals may vary.

 
Offers & Sales

- T

his is where you can find top discounts and offers in various products. So, it is always a good idea to explore this before you check-out to spot products at a huge price slash. 
Virgin Exclusives

- This is where you can find

brands and products that you may not find anywhere else.

Sometimes, you may even find products that can take you by surprise. That's because they are either limited editions or not available in Dubai. 
Black Friday Sale

- This is o

ne of the most awaited sales o

f

the year, and also the perfect time to shop at

Virgin Megastore. You can find incredible deals and discounts across several products that you shouldn't dare to miss. However, the offers in-store and online may be different, so its best to check first before you shop.

 
Super 

Sale Promotion

-

This is a

fantastic

3-day promotion, and you will be stunned by the prices of the products on offer. It's the best time to stock up on your favourites, as you can spot discounts as high as 90%. This is generally after the summer sale. However, the dates fluctuate every year. So, sign up for Virgin's newsletter and follow it online to get the deets in advance!

 
Dubai

Summer Surprises 

- Though s

ummer is a dreaded season in the Gulf region, it is also the most awaited one. Well, that's because Virgin offers exclusive discounts across its brands and products. So, get ready to shop anywhere between May to August. I

t's easy to miss out on the best discounts if you don't check them out quickly.

 
Dreaming of owning something you saw at Virgin Megastore recently? If you don't need it urgently, then it's wise to wait until the sale season arrives. With sale events rampant in the UAE all year round, you are not far from making your dream a reality. So, stay tuned for the latest updates to save much on your purchase!
Customer services
There are millions of reasons why Virgin Megastore is a great place to kick off your shopping journey. Aside from its wide array of products at affordable prices, it also leads the way in customer services. Thus, placing an order, shipping, returns & exchange, and more becomes a breeze. Let's check them out below in detail.
Know about out of stock products

in advance - It

'

s

disappointing if you come to know that a product is not available after placing the order, and worst, if you

happen

to know after a few days. Virgin Megastore avoids this scenario

by determining the number of in-stock items and the orders received on the product page. This saves time, and you can always come back later to check and order.

 
Cancelling an order is possible

- Notify the team immediately (calling is best in this case) i

f you happen to change your mind after placing the order. However, if they have already shipped your order, the request cannot be fulfilled.

 
Pre-ordering products

- P

re-ordering is very much possible online w

ith ce

r

t

a

in about

-

to

-

launch electronics.

You can add the product to the cart and check out. Furthermore, you will be notified about the release date. Your card is charged once your product is made available by the supplier and reaches the store. However, these products cannot be shipped. You will have to go and collect upon receiving an SMS that it

'

s ready.

 
Virgin circle dots

-

This is what Virgin's loyalty program is called. As soon as you sign up

,

you start accumulating points. These keep adding up as you make purchases, depending on the product. Once the dots reach 2,500

 redeeming them in multiples of AED 25 is possible.

 
Repair, warranty, and damaged products

-

Virgin Megastore will repair any product that is under warranty free of cost. You can still get it fixed at a fee if it has crossed the period. In case you receive a damaged product, write to the team or call them and they will sort it out. You can also go to the nearest store and share

t

he concern with the customer support team there.

 
Easy return & refund policy

-

In case you want to return or get a refund for a product, make sure it happens within 30 days of the delivery date. It should be in the original condition with the receipt. This way, you will be eligible

to exchange it for another product of the same or higher value, after paying the difference.

 
Click & Collect

- This is a

nother 

fantastic

 option for those who are not always available at home to 

receive

their order. Opt for this service during online check-out to ship the product to the store nearest you.

O

nce it is arrives, you will be notified via SMS after which you can go anytime to collect it

.

 
You can contact Virgin Megastore through email or call them at 800VMEGA (86342) or +971 44 359 434 (weekdays 9 AM to 6 PM). Their store timings are from 10 AM to 12 PM. Enjoy your shopping experience!