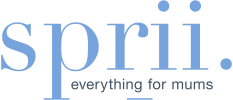 Sprii
---
To make life easier for busy mums – that's the motto of Sprii. The shop boasts of a fantastic selection of more than 1,000 amazing brands from across the globe on a single platform. With fantastic discounts, free shipping, and easy returns, your shopping experience becomes so much easier.
The last thing you want to do when you're pregnant is spend your days at malls for baby essentials and mother care products. With an online shopping store as great as Sprii, all your doubts can be put to rest in just one click.  
Reasons to love Sprii
Sprii is your partner when it comes to parenthood. From high-quality products at great prices to a suite of exclusive services, it aims to give you utmost satisfaction. Below are some of the reasons why this online shop is worth falling in love with.
Free unlimited shipping

 - 

Yes, there's no catch here, and that's one of the best 

reasons to shop on Sprii

! 

B

e it you're buying a pencil case or a single pacifier, you will get free shipping each time. 

This is especially great since you may not always have time to

visit a

 store.

 
Everything from A-Z for kids

 - 

Be it diapering, toys

,

 or even getting started for school, there is 

al

way

s

 s

omething for 

your little one

! 

Sprii

 also has some great stuff for 

soon-to-be-mums

. This makes it 

one of 

the best one-stop website

s

 for everything.

 
Amazing gifts - 

When it comes to 

kids' gifts

, it is always a challenge because you don't know what they like. However, it's essential to get something, especially if someone invited your child 

for a birthday party. Sprii promises to solve this concern with some excellent gifting options. You can also 

choose

 

from a wide product range 

per your budget.

 

 
Cool discounts - 

As soon as you start browsing Sprii, you'll realise that it has some excellent price drops featured on its banners. From baby clothing to food and toys, 

Sprii discount

s

mean some 

great 

savings

, 

plus 

the sales make everything a sweeter deal!  

 
Cash on delivery option

 - 

This is perfect if you are 

not comfortable with online payments or may not have a bank account set up yet. This too is an entirely free service and does not require any minimum order amount. Just pay the courier when he comes to deliver the package

, and you're good to go.

 

 
Easy sale notifications through newsletters

 - 

Not only do you get a 10% on your first order once you sign up for the newsletter, but you also get informed about the 

exciting

 sales in advance

. 

Yes, with some fabulous discounts, a lot of 

Sprii's

 products get over very quickly

. 

S

o

,

 knowing about 

them

 in advance is the key to getting those offers.

 
Whether you are a first-time mum or dad or becoming a parent the nth time, Sprii is your shopping paradise. Its products are tested to the highest standards to ensure your baby's health. What's more, they are affordable enough to give you the best value for money. Add to this amazing deals and dedicated customer service, buying your essentials from Sprii is always win-win!
Brands offered
With more than 1,000 amazing brands, Sprii is the best place for mum and baby products. You can select from Disney, Ted Baker, Hamilton, Herschel, Cosco, Fusion, Juvenile, Munchkin, Cath Kidston, Chicco, Smart Baby, Maclaren, Fastrack, Graco, Boba, Sleepyhead, Early Learning Centre, Skip Hop, Infantino, and more.  
What's in-store
Sprii online shopping means getting everything you require right at your fingertips from pregnancy to welcoming the baby and those toddler years. Be it diapering needs, baby toys, appliances, outdoor play products, bath & baby care, mum essentials, kids fashion, home & lifestyle, baby gear, feeding products, school supplies and gifts, you can find them all on this online shop. The best part is that the products here are all branded and guaranteed high-quality at the best prices!  
Discounts, offers, & promotions
Sprii is one of the few websites that have exclusive offers all year round. You can log on to their online store to spot them, and you'll be delighted with the great finds. With exceptional sales, voucher codes and many other offers, buying online has never been more convenient and satisfactory. 
Voucher or promotional codes – You can indulge in

Sprii luxury baby shopping

without cutting a hole in your pocket. Well, that's because you can take advantage of

vouchers and promotional codes on Sprii and its third-party websites. You can also come across them while shopping on the websites of the brands offered by Sprii. Using them is very easy – just add your product and use the code while checking out.

 
Banner 

codes – 

It

 is effortless to spot banner codes on Sprii. These are generally on the top of the page and under the different categories of products. The scroller helps you see multiple banners – each of them with a unique code, deal, or discount. This is the best thing, as you don't need an exclusive voucher to avail it.

 
Mother's 

D

ay sale

 

–

 

Sprii gives a ton of discounts 

b

o

th for mums and babies o

n this special day

.

 

And

, if your needs are not urgent, it makes sense to wait 

for this extravagant sale, especially if it's just around the corner.

 

 

 
Black Friday 

–

 

Black or White Friday is when Sprii sees some fantastic discounts. Things like diapers, school supplies, bathing product

s,

 

and more

 are 

offered

 

at incredibly low prices. Thus, this season is a great opportunity to help you

 save cash.

 
Special online discount codes 

–

 

It is very common to see a few special codes on certain 

Sprii

 products. You can spot them while scrolling 

and also

 on the first page when you click on a product.

 

 
Dubai Summer Surprises 

(DSS) 

– 

The biggest offers and discounts become part of the DSS, which 

kicks off

 during the summer months. You can wait 

until 

it's around the corner

. I

f not, take advantage of the special online codes 

offered

 

randomly 

on the site.

 
Dubai Shopping Festival 

(DSF) 

– 

T

his one is a month-long shopping spree 

wherein you can indulge in 

some of the best brands, both online and 

in-store

.

 

Sprii participat

es

 in 

this grand sale season

, and it is the best time to 

save big on 

th

eir

 pricier products.

 
Sprii always gives a sigh of relief to parents through its products at super low prices. And you know the best part? Shopping in the UAE becomes more exciting with huge discounts during sale seasons and promo periods. So, it's a good idea to be on the lookout for these deals on Sprii's website from time to time!
Customer services
As a family-centric online shop, Sprii has a strong reputation for offering superb services to its customer base. From the order process to aftersales, you can rest assured that all your needs are well taken care of. Therefore,  you can always expect a stress-free shopping journey.
Free shipping and cash on delivery

- Isn't 

free shipping

the best part of online shopping? Yes, you can order as you please and pay conveniently upon delivery

,

as Sprii also has a COD option available. This is one of the best policies which allow you to shop carefree.

 

UAE:   

Shipping time: 2 to 4 working days
Shipping cost:  Free
Payment options:

Cash On Delivery / Cards

KSA: 

Shipping time: 2 to 4 working days
Shipping cost:  Free
Payment options:

Cash On Delivery / Cards

Kuwait:   

Shipping time: 10 to  15 working days
Shipping cost: Free
Payment options:

Cash On Delivery / Cards

Outside UAE (*The Middle East includes Bahrain, Kuwait, Oman, and Saudi Arabia):

Shipping time: 10 to 15 working days
Shipping cost: Free
Payment options: Cards

Easy returns

-

If you're not satisfied with your purchase, returning it is no hassle at all. You can 

send an email

within 

seven

days of receiving your order.

Sprii also takes the hassle and cost of picking up the produc

t

.

Amend or cancel your order

- If you realise that you have placed 

the

 wrong order and want it changed, t

hen 

Sprii allows that

 as

 well

. The only condition here is to let them know about it within two hours of placing the order. After this, the order reaches the warehouse for fulfilment

,

 and the request cannot be taken.

Request a product - Love any baby or mum product that you didn't find on Sprii? Well, you can request it here. Their team will then check its availability and other factors. If all goes well, your favourite product can be made available on the online shop. Isn't that a cool feature?

Easy to contact

- 

Whatever concern you may have,

it

'

s easy to 

get in touch with the

 customer care team 

by calling

 

+971 (0) 4 401 8888 or 

sending them an

email

. Sprii has a 7-day return policy on its products.

 

Multiple online payment options

-

If you choose to pay online

, you can do it

 

safely and securely. Sprii offers you the option to pay via

Visa

, 

Mastercard, Visa Checkout

, 

and PayPal

.

 

Easy replacement or refund in case of defects

-

If you receive an item in a damaged state, notify the team immediately. Sprii is happy to take your request and either refund your money or send another product for free.

 
With fantastic offers, a flawless shopping experience, and multiple brands, Sprii is one of the best online shops for mums and babies in the Middle East. So, shop from this online store today!