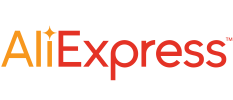 Ali Express
Ali Express
Write first review
---
Ali Express was launched in 2010. It is owned and managed by the Alibaba Group and is one of the largest Chinese-based online stores. Shopping here is an amazing experience, as it has products and brands that are rarely found locally. Plus, its suppliers are spread all across China and in other countries.
The fact that you can find anything under one roof is something that makes Ali Express your best choice. Ali Express online shopping has never been easier, thanks to easy-to-browse categories and several selections. What's more, you can easily find many sellers who ship to locations around the world. So, owning your dream item becomes a piece of cake! 
Reasons to love Ali Express
Ali Express is one of the most popular and widely preferred online shopping platforms of people around the world. Apart from a massive range of product categories and brands, it also boasts of exciting deals, quick delivery, and superb customer service. Let's get a glimpse below of the other fantastic things it has in store.
Surf from anywhere in the world with language options - Yes, you don't have to worry anymore about Ali Express not being available in your county. It caters to over 200 countries & regions. So, you can buy its products wherever you are in the world.
Excellent value for money - Ali Express has over 100 million products. When it comes to the pricing, you can be sure that they are the best you can get. Not to mention, the store sources directly from manufacturers or sellers. So, this reduces the number of intermediaries, which, in turn, helps them keep the delivery cost to a minimum.
Delivery all over the world - Hate ordering to your home country or another place because some online stores won't deliver directly to you? Well, with Ali Express, you don't need to worry about this anymore. It has several sellers based in China, Russia, and other countries that ship all over the world. You can find these details as soon as you view the product, so you don't get disappointed after placing the order.
Buyer protection policy - The Alibaba Group ensures that your money never meets a product that isn't worth it! Thus, the buyer protection policy was designed to safeguard buyers, even after they made the purchase. This means easy returns, money-back guarantees, local returns, and more.
Stay connected through social media - The best way to know about deals and discounts? Through social media, of course! Yes, Ali Express is active on Instagram, Facebook, and Twitter. So, you can like or follow them to get the latest updates. It's also an easy way to reach out to them if there are any complaints or suggestions. However, getting in touch with their customer service team is better.
Plenty of options - If you like something on Ali Express, you can check out the options for the same product. Be it different designs, colours or variations, there will be so many choices and filters to pick from.
The best thing about Ali Express is that it delivers to shoppers worldwide. And that means you can easily and conveniently have access to items not available in your country. What's more, this online shop leads the way when it comes to customer service and policies. Therefore, you can always look forward to a glitch-free shopping experience!
Brands offered
Ali Express is one of the best online platforms to get everything in one place. You will come across choices like Apple, Microsoft, Samsung, Disney, Nike, Adidas, Levi's, Under Armour , Logitech, Ray-Ban, Huawei, LG, Nikon, Canon, Nestle, 3M, Intel, Sony, Chicco, and many more while shopping online.
What's in-store
Ali Express has the world at your fingertips! Browse the website for a couple of minutes, and you'll realise how true this statement is. You can search through the category for options if you're not sure or use the direct search tab to check for anything you want. Amongst your options include women's fashion, men's fashion, phone & telecommunication, computer, office & security, electronics, jewellery & watches, home, pet, appliances, bags & shoes, toys, kids & babies, outdoor fun and sports, beauty, health & hair, automobiles and motorcycles, home improvement, tools, and many more. Apart from these, you can find more on the online store.
Discounts, offers & promotions
Nothing is better than getting some additional discount on your purchase. Well, the best part here is that Ali Express already has some mind-blowing prices to start with. However, this does not mean you should not take advantage of some even better prices! Here are some of the best offers and promotions that Ali Express has had over the years.
Annual & mid-season sales - There are some great sale events that happen half-yearly and even after a quarter is complete. So, that means these are the best time to stock up. With some fantastic deals and discounts that you can indulge in, sale events are definitely worth the wait!
Online promo & coupon codes - Ali Express discount coupons and promo codes give you that extra deduction towards the end and make your purchases worth the moolah! You can get these by spending a certain amount, purchasing full-price options, or from third-party websites.
Flash sales - Well, early birds are sure to grab these Ali express sales! You can spot them on the website, and they are mostly limited to some products. At most times, the deals go away in a few hours, so if you spot them on Ali Express, make the most of it!
Christmas and festival sales - Depending on the country, this sale event keeps changing. Festive deals are typical during New Years, Christmas, and other festive occasions. So, you can get lucky if you choose to shop during this time. It's the perfect season to buy your new outfits and shoes and get some gifts too, at affordable prices.
Single's Day Sale – Having brought in a record $38 billion in sales for Alibaba, the Single's Day Sale added a cherry on the cake for this e-commerce giant when it was first launched! The event takes place on 11th November of each year and is also known as the 11.11 Global Shopping Festival because of the unique day it's hosted on.
Now that you already know the best times of the year to shop on Ali Express, you should always stay tuned to its latest sale alerts. Isn't it exciting to be the first to get your hands on your desired items at super low prices?
Customer services
Another great thing about Ali Express is that it never disappoints when it comes to service quality. It has your best interests at heart through its easy-to-use website, transparent return policies, easy payment options, quick delivery, and so much more. Let's get into the details below.
Money-back guarantee - You can ask for your money back if you are not satisfied with the purchase made through Ali Express. For this, go to the order history and contact the seller. You can also raise a claim within 15 days of getting your product. The seller has to return your money within this time. If not, you can reach out to Ali Express customer care to take care of the matter for you.
One-time free returns & local returns - A one-time free return is possible by returning to the address it has been sent from. The return amount will then start processing once they verify that the product is in the right condition. Ali Express ensures that return products reach their typical warehouse to provide a faster refund, instead of you having to ship it to the seller's country. At the moment, local returns are available only in Italy.
Building a wish list - Love something but don't need it immediately? Or don't have the budget yet? Well, feel free to add it to your AliExpress wish list. Make sure you are signed in, so they get saved in your profile. When you come back later, you save the time and effort of searching for it again. You can check your wish list in your profile and get to place an order immediately.
Last viewed products - Loved something you had seen a few days ago and now you can't seem to remember the name of the product? Well, Ali Express has made it easy for you—check out the last viewed products and you'll surely find it there. Just ensure you're always logged in before you start, so these details get auto-saved under your profile.
Shipping, language, and currency options - Check out the top right corner of the website, and you'll find all these tabs—ship to a country, language, and currency options. You can set them as per your preference, so you no longer need to check the currency converter each time you have to buy something. It makes navigating the website so simple!
Multiple payment options - The Ali Express website and app is 10% safe with a genuine product from reputed sellers. When it comes to payment options, you can use debit and credit cards, web money, wire transfer, and Western Union, to name a few.
Easy contact options - It's easy to get in touch with your seller through the order history tab. Here, you can click on the 'contact' tab to reach out to him. You can also open a dispute and ask for your money back if your query isn't resolved.
Want to get the best value for your money and experience an amazing shopping spree without cutting a hole in your pocket? Ali Express is the answer. So, shop here today!
Shop reviews

from Ali Express