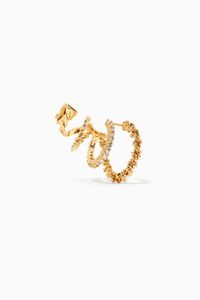 More Joanna Laura Constantine in Earclips
Modern Vintage Twisted Wires Single Ear Cuff wi...
Joanna Laura Constantine's twisted wire cuff is adorned with four different rings to hug the ear in all the right spots. It's handmade from 18kt gold-plated brass and delicately detailed with gemstones and Swarovski crystals. Pull your hair to the side before setting it over an enchanting evening ensemble....
Quick to
PricesProduct descriptionProduct specifications