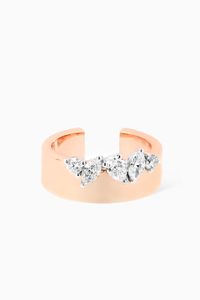 More Lustro Jewellery in Earclips
LUST Single Ear Cuff with Diamonds in 18kt Rose...
If you enjoy wearing striking and expressive modern jewellery, you'll adore Lustro's Lust ear cuff. Softly gleaming in satin-finish rose gold, its suave curved shape is accented with a cluster of sparkling diamonds. Wear it alone or create an extravagant look by adding matching huggie hoop and stud earrings....
Quick to
PricesProduct descriptionProduct specifications