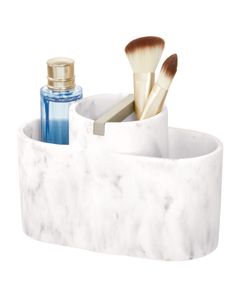 More DefaultBrand in Jewellery Boxes
Inter design Dakota Divided Organizer White Mar...
Interdesign Dakota Divided Organizer is perfect for storing your items on your dresser, nightstand, bathroom, counter, vanity and more. This organizer is made using durable resin, which ensures durability. The organizer is divided into three sections, which can be sued for storing makeup, brushes, toothpaste and toothbrushes. The small front contai...
Quick to
PricesProduct descriptionProduct specifications