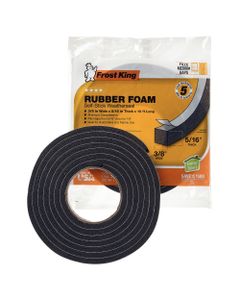 More DefaultBrand in Sealant
Frost King 3/8 x 5/16" x 10Ft. Black Rubber Foa...
Frost King Black Rubber Foam Tape Weatherseal is a durable, sturdy self-adhesive tape that works great as a protective strip, as a seal around air conditioners, as a gasket, or for cushioning and stabilizing large equipment. It forms a tight seal and covers up gaps on windows to keep the rain, and other weather elements out. Thanks to its excellent...
Quick to
PricesProduct descriptionProduct specifications