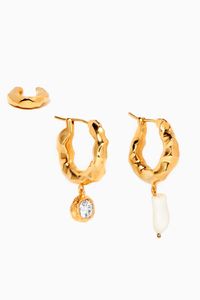 More Joanna Laura Constantine in Jewellery Set
Feminine Waves Pearl Drop Earrings in 18kt Gold...
Joanna Laura Constantine takes the effort out of matching jewellery with its three-piece earrings and ear cuff set. Each piece is expertly sculpted by hand and deliberately mismatched, capturing the designer's penchant for delicate detail with pearl and stone drops. Use the set to decorate the ears, and sweep hair into a low bun for maximum impact....
Quick to
PricesProduct descriptionProduct specifications