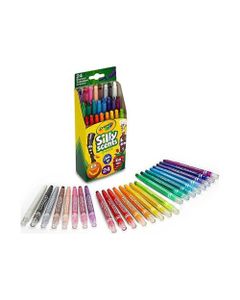 More DefaultBrand in Stationery
Crayola 24 ct. Silly Scents Mini Twistables Sce...
The Crayola 24 Count Silly Scents Mini Twistables Scented Crayons is a perfects surprise gift for your kid who loves to draw beautiful sketches. Thanks to the twistable design, you don't need to sharp these crayons time and again. All you need to do is to twist the barrel to move the crayon and refresh the tip to create clean lines. It comes in hig...
Quick to
PricesProduct descriptionProduct specifications